See all news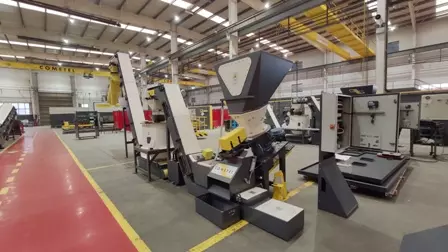 METAL CHIP TREATMENT INSTALLATION
This new installation equipped with two shredder infeed conveyors is travelling this week to a customer's installations in our neighbouring country.
The first conveyor has been designed with the aim of feeding small metal plates and aluminum cans to a shredder. Once the material has been shredded, the second conveyor has been manufactured to feed this metal waste to another shredder for the upcoming material revalorization.
Both conveyors have been manufactured at Cometel in pitch P=6" metallic hinges with a reinforced belt.
As a consequence, the unloading, dragging and lifting of the material to the crushers will be done properly, thanks to the built-in paddles incorporated in them, making sure the material does not get stuck and ensuring that the client achieves an automation of the whole process and an increase in the production in the shredding process.
These conveyors are one of the most reliable on the market, contributing to any recycling project a greater performance and reliability.
To learn more about similar chip treatment projects, we recommend visiting the shredder infeed conveyor section
through this link
.